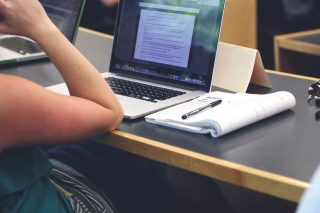 This month's guest blogpost is provided by Callum Dawson, a writer for Mears Student Life, a trusted provider of purpose-built student accommodation across the UK.
The jump from secondary school or high school to sixth-form? It's a big one. How about going from sixth-form to university? Even bigger. There's not much talk about the jump from university to postgraduate study, though, but there should be, because it's monumental.
The change can be a big culture-shock if you're not prepared. Postgraduate study requires far more independent learning than undergraduate study, not to mention a great deal of self-motivation. For this reason, we've collected five tips for you that will help you to succeed at postgraduate level. Here they are!
1. Pick a subject you love (but can still be objective about)
There's a unique point to be made with this one. On the one hand, you want to study something that you're passionate about, and something that you obviously enjoy. On the other hand, you need to be able to step back from the subject at hand and view it with impartiality. You need to be critical with the work. This is important if, for example, you're studying English literature and you choose to write a dissertation on your favourite novel. Is that really the best choice – the one book you've held dearest all these years? Probably not. You could be too close to it – bias is the scourge of the academic community, remember!
2. Prepare for epic amounts of reading (epic in the actual sense of the word!)
At postgraduate level, there's a lot more focus on reading around your subject. As an undergraduate, your reading list will consist of a limited number of texts, with the option of reading around the subject. You might not expect such an increase in workload when you move on to postgrad work, but the reality is that you have to make a big step up.
You need to show that you're capable of extensive research and can go down avenues that you found on your own. It's all about working independently and trying to do things a little differently.
When you're planning your dissertation or thesis, pick a starting point (a core text, or maybe an overarching question that you intend to answer) and plot a few points which are mentioned to investigate. As you do this, you'll land upon ideas that you may not have come across before. Basically, be prepared to read as much as possible! Postgraduate work is hard, but you'll soon get the hang of it.
3. Talk about your work with others – it helps!
Although independent learning is, as we've said, important at postgraduate level, you should still engage in group work (as much as you may hate it!). Discussing work with your peers, or even a few family members or friends, will give you some precious outside perspective.
It's quite common for postgraduate students to get 'tunnel vision', which is having too much focus on a single specific point. When you're so far into your research and you're so close to the work at hand, it can be difficult to look at the bigger picture. It helps to get outside of your groove every now and then and talk to others! You might come across a few gaps or holes in your theory – ones that you've not noticed before.
4. Rethink your strategy
The old phrase 'if it ain't broke, don't fix it' doesn't really apply at postgraduate level. Your revision strategies up to now may have been fine for your A-levels or your undergraduate work, but things are different now.
Your first few months of postgraduate study are perfect for trying new things, whether that's revision methods that you've not tried before or learning-strategies that you'd like to try. Now is the time! The intensity has increased, and you need to be reactive to this.
We can say that what has worked well for you before may not work anywhere near as well for you at postgraduate level. You're expected to up the ante, all in the name of academic progression.
5. Get a head-start on your reading
You'll have been told this at undergraduate level, we're sure, but it's vital that you actually get a head-start on your reading list at postgraduate level. This is what your summer is for (although you'll want to spend some time relaxing too!) Get out in the garden or head down to the park, and get yourself ahead of the game. If you are taking a pre-sessional English course before your postgraduate studies, this will help you to get used to the language and study skills you'll need.
Every little bit helps. Get to grips with the concepts you'll be tackling, as well as any bits of vocabulary or terminology that you might not be familiar with. You don't want to start your postgraduate course unprepared, so it's best if you do some preparation. You'll thank yourself later!
It's a big jump, but you can handle it.
With the above tips, we're confident that you have postgraduate life planned out. With preparation, forward-thinking and plenty of reading, you'll be in a great position to do your best!
If you have a question related to academic life and study in the UK and you can't find the answer in the Prepare for Success learning resources, write it on the Question Wall and we will try to answer it here in the blog next time.
Posted By :
Prepare for Success