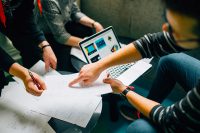 This month's guest blogpost is provided by Daniel Sefton, a writer for Dwell Student Living:
When you choose to make the UK your home throughout your studies, you are stepping into a new culture, you are trying out a new language, and you might even be experiencing new teaching styles. Studying in the UK can be a challenge if you are not used to the way universities and colleges are structured, but there are a few things that you can do to make your studies a bit easier:
Ask Questions
Make sure you ask plenty of questions when you're in class, especially if English is not your first language. It's important that you take in the right information, and if you need your tutors to clarify any concepts for you, don't hesitate to ask. Even if you think that the question might be worth asking, you should still get your tutor to explain it to you in terms that make sense to you.
Asking the right questions will help you to understand topics when you to come to study for your exams. If you don't understand a topic and don't ask, you may find that you have to teach yourself the concepts, which may then have an impact on how you manage your revision time.
Study with Friends
Sometimes it is better to study alone, because you can put real thought into the work that you are doing. One negative to working on your own is that when you encounter a difficult concept which you struggle to understand, you have nobody to ask for help. A solution to this problem is to study with friends.
If you revise with other people, they will be able to help you fill any gaps in your knowledge, while you will help them by explaining any concepts that you already understand. Working collaboratively with other people is a great way to quickly develop your understanding of a topic, so it is worth booking out a private study-space in your university or college library and getting together for a study session.
Practice
Practice makes perfect, so once you feel like you fully understand a topic, it will be time to put your knowledge to the test. Make use of the resources that your university or college has on offer, especially past exam papers and example answers from previous assignments. Find out from your tutor how long your examinations will last for, and recreate exam conditions when you test yourself.
Working in this way will get you used to the atmosphere of the exam hall, which means that when the actual test comes around, you will be able to perform to the best of your ability. Once you have tested yourself, take the time to mark your own work, and use this to find any gaps in your knowledge which you can then work on before your actual exam.
Plan Ahead
When you have settled into your course and have a good understanding of the syllabus (the topics you will be learning), start planning how you are going to study throughout the year. Make sure that you give yourself plenty of time to absorb all of the information that you are being taught. The best way to retain new information is to dedicate an hour or so each evening to revising what you have learnt throughout the day. When you do this, you should put it into your own words, because this will help to improve your understanding of any confusing concepts. This will be crucial closer to exam season, because you will not be attempting to learn new things – it will just be a case of refreshing your memory.
Use Study Apps
If you need extra help with your studies, you can make use of some of the amazing smartphone apps that are available. There is genuinely an app for everything, so if you can pinpoint what it is that you struggle with, you will be able to find an app to help you.
If you have difficulty with taking in information, you can use apps like Soundnote to record your lectures, which will help you with your revision, because you can play the lecture back at a slower pace. You should check with your lecturer first to make sure they are happy to be recorded in this way. If you struggle planning your time, you can use apps like Class Timetable to plan your time effectively. It's just a case of finding the right app for you.
Hard Work Pays Off
It can be a challenge trying to learn in a new environment, but with careful planning and hard work, you can be capable of exam success in no time!
If you have a question related to academic life and study in the UK and you can't find the answer in the Prepare for Success learning resources, write it on the Question Wall and we will try to answer it here in the blog next time.
Posted By :
Prepare for Success