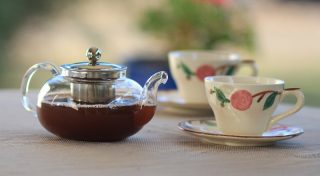 Our latest guest blog post describes seven alternative study break activities for students, and is provided by Jessica Wagstaff from outdoor extreme-weather clothing and equipment specialist DLX:
You're coming to the end of the semester, your coursework is all submitted and now you've got exams to pass – it's study time. Whether reading up from home or at the library, studying can be intense; there's a lot of information to learn and you don't want to skip what could potentially be in your exam. It can be a stressful period, therefore having a break from studying can be just as important as the studying itself. Whilst an energy drink or an extra-large dose of coffee might seem like a fast and easy way to rebuild your energy, these methods can often leave you feeling burnt out. So why not try one of the activities listed to focus your mind.
Cup of Tea
A "cuppa" (cup of tea) is a well-known cure for all woes and ills in the UK – this includes helping you to de-stress from studying. If the classic milk and two sugars tea combination feels a bit strange then you could opt for a green, fruit or herbal tea which will still have a similar soothing effect. Make sure you take the time to completely break away from your work though and enjoy the hot beverage, don't rush back into working; you could even pop your tea in a flask and go out for a walk.
Colouring books
One of the keys to a proper study break is to switch off from what you've been reading to give your mind a rest. Being creative is a great way to do this, but being creative can feel stressful for people who like to have structure. Hence the rise in popularity of colouring books for adults, where you're given a task to do. These enable you to really put your studying to the back of your mind for a while.
Listen to a podcast
Listening to music is a method of stress release for a lot of people, but Podcasts are a different way to chill out with a number of options available. You can have a book read to you and get lost in a story for a while, or maybe listen to a comedy show and laugh out loud (maybe at home rather than at the library…) You could even listen to something subject related to your studies to step back from your reading for a while and gain a fresh perspective.
Quiet time/meditate
Meditation has been scientifically proven to help people de-stress and is a great study-break choice. It may feel like a chore or even silly at first, but once you allow yourself to be completely transported away by it you'll soon see the positive effects meditation can have. Focusing on your breathing and the present moment is called mindfulness. It is a process that you can adopt when going back to studying as it helps stop distractions and means you have better quality study periods. Meditation allows you to take your mind off studying so that when you go back to studying your brain is refreshed and ready for the task at hand.
Exercise
It is well known that Exercise releases endorphins, which make you feel happy, and therefore can be a fantastic study break activity. If you're at home you could do yoga or go out for a short run. At the library, then getting outside for a 20-30 minute walk is a good choice and you could explore a part of the city you've not been to before. Swimming is also great for switching off for a bit as well as a great all over body exercise, see if your local campus has one.
Crafts – knit, make jewellery, cross-stitch
A great way to relax yet be productive at the same time is to pick up a crafty talent. Making jewellery, knitting, or cross-stitching all create lovely little pieces of craftwork that you can use in the future. All the while enabling you to concentrate on something completely different for a while. Just don't get carried away making the entirety of your extended family a new jumper…
Have a bath
Don't take your phone, tablet or any other electronic device with you, just sink into the bubbles and relax in a nice hot bath. Our bodies release endorphins as our temperature rises and toxins are released through sweat. Afterwards your muscles will be relaxed and you'll feel clean and fresh – ready for the next round of studying.
It's worth mentioning that these breaks work well if you've planned your studying in advance and aren't cramming it in at the last minute – that is a sure way to become stressed! So don't get bogged down by over-studying this exam period, make sure you reward yourself with proactive study breaks to look after your mental health and increase productivity.
If you have a question related to academic life and study in the UK and you can't find the answer in the Prepare for Success learning resources, write it on the Question Wall and we will try to answer it here in the blog next time.
Posted By :
Prepare for Success