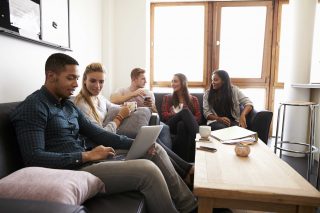 This month's blogpost is provided by Sophie Barber from Beaumont House, who provide student accommodation in West London for all UK and International students. Their accommodation is an inclusive, calm and supportive environment, ideal for postgraduate and international students.
Finding student accommodation can be a difficult task, especially if you are an international student coming to the UK for the first time. At first, it can seem as though all of your energy is spent on finding the perfect place to live! Then, it's a big relief when you finally find somewhere.
However, during the busy period of finding somewhere to live, we sometimes forget that we will actually be living here! Whether you are studying in the UK for one term, three years or even more, it's important to get some advice on living with other students. We've outlined some top tips below so that you can make the most out of living in the UK.
Socialise with your housemates
How you start your life at university tends to be how it will continue. In those first few days in your new room, flat or house, you will have plenty of opportunities to socialise with your housemates and get to know them. Everyone will be in the same boat as you, so there's no need to be nervous.
You can start by getting a takeaway meal together, or playing some board games as a house. After a few weeks, you will probably find that you have already made great friends in your housemates!
Create a jobs rota
University accommodation can get messy – that's just a fact. However, there are ways to prevent things from getting too out of hand! It's a good idea to make a cleaning or jobs rota with your housemates. That way, everyone plays a role in looking after your accommodation and keeping things tidy.
The jobs might include taking the bins out, hoovering or keeping the kitchen tidy. However you decide to do it, make sure everyone is aware of their responsibilities and stays on top of things.
Work out a way to split bills
Although some student accommodation comes with bills included, there may be things that you need to work out with your housemates. These can include gas and electricity, the internet, your TV licence and water. There are a number of apps which allow you to split the costs between you, or you could set up a monthly bank transfer to whoever is paying.
Even if your bills are included, you will still need to consider shared household items such as toilet roll, washing-up liquid and soap. You can create a communal money pot for these items, or make sure that there is a fair rota for who buys them.
Set boundaries
While socialising with the other students in your accommodation is great, it's also important to have your own boundaries, particularly if you have a heavy workload. If you're stressed or just want some alone time, let your housemates know that you won't be around as much.
This also works both ways, so if you can tell that one of your housemates needs to get their head down and do some work, try to let them get on with it.
Communicate
If you begin to get frustrated with one of the people you are living with, it is important to approach the situation in a mature way. There is no point harbouring grudges or talking behind their back as nothing will get solved this way.
The best approach is to address them about the issue in a calm and polite way. If you can communicate with your housemates, it helps any problems get solved a lot easier.
Be supportive
The final thing to remember about living in student accommodation is to be supportive of your housemates. University can get stressful and there may be times when they need a shoulder to cry on.
If one of your housemates comes to you with a problem, help them to find a solution or at least listen to them talk about it. Then, if you are ever having a difficult time in the future, you can rely on them to be there for you.
Posted By :
Prepare for Success