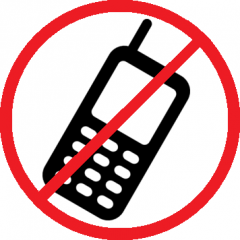 This month's guest blogpost is provided by Oliver Long, a writer for The Student Housing Company:
Who else remembers when killing time involved exactly that; waiting for time to pass, and not doing much? No, we don't either. Nowadays, any free moment we have is spent with our faces buried deep in our smartphones – a real 21st-century problem.
While it's true that Facebook, Twitter, Instagram, and even emails work great as time-killing tools, it can be good for the soul to stay off your phone every now and then. That's why we've looked into five offline, productive things to do without your phone – for those who think detox retreats are too much but the Moment app is too little.
Observe Your Surroundings
If you can spare a couple minutes away from your phone everyday, you may notice something amazing that's happening all around you – real life! Once you're done observing, you can then get back on your phone and turn all these observations into excellent tweets…if you can condense them into 280 characters or fewer.
Explore the Real World
Inspiration comes from the most unlikely of places, but you wouldn't know unless you go out and explore the possibilities. Incidentally, taking a walk is also a great way to unwind and declutter your mind of all the study-related stress you may have. Take this opportunity to relax and recharge. You can pay a visit to a local area you've never been before; the park, the gallery, or the museum, where you may even learn a new thing or two. Speaking of learning…
Learn Something New
Perhaps you've been wanting to take up photography? This would be the time to do it. How about learning a language? Or you could just pick up a book from the library or download an ebook on your Kindle, then you wouldn't even think about checking your phone. No matter what degree you're studying, having new skills is only going to enhance your employability in the future. You never know, you may even enjoy it!
Catch Up Over a Coffee
Meet up with a fellow coursemate, go to a Starbucks and just chat and see where the conversation takes you. If you're really pinching pennies, consider having a friend over for a regular coffee or tea and share ideas over your coursework or something completely unrelated to your studies. Just don't forget to put your phones away.
Actually Get Work Done
This probably isn't what you clicked in here for but having no distraction from your phone makes the perfect setting to get some work done. Now you may be thinking "a big part of my studies depends on my phone and the ability to access the internet!", but if you take a step back from all the technology, you'll find that there's more to what you can accomplish without your gadget than you thought.
We hope you've found some tips and ideas helpful for next time your phone runs out of juice or when you decide that enough is enough and that the time has come for you to live your life phone-free.
If you have a question related to academic life and study in the UK and you can't find the answer in the Prepare for Success learning resources, write it on the Question Wall and we will try to answer it here in the blog next time.
Posted By :
Prepare for Success