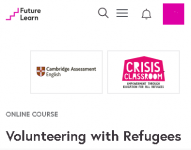 This month's guest post is provided by by Julie Watson, Emeritus Fellow in eLearning and creator of Prepare for Success:
To date the UK has received c. 8000 Syrian refugees through its Syrian Vulnerable Person resettlement programme towards the quota of 20,000 by 2020 set by the government. Vulnerable Syrian families attempting to adjust to life and culture in a different country after the loss of home, livelihood, possessions and community in their country of origin and much other hardship besides, face a level of challenge which is unimaginable to most of us. Resettlement programmes prioritise providing support for housing, finding work and learning English. The latter is a vital step in the process of resettlement. Unfortunately, not all adult refugees are able to start English classes when they arrive in the UK; some are having to wait a long time, even several years, before being able to start learning English. These problems are not confined to Syrian refugees but are commonly experienced by all refugees in various parts of the UK.
ESOL courses delivered by Further Education colleges and by charities and partnerships supported by funding through local councils, the EU and the lottery are typical means of providing English language support. However, there are waiting lists for class places in some parts of the country. Increasingly, volunteers are coming forward to help deliver free classes. These volunteers include very experienced teachers with an armful of qualifications as well as individuals new to teaching, to ESOL or to teaching refugees. A problem commonly faced is the lack of suitable course books for teaching refugees since most publications are designed for an EFL market and are far too Euro-centric in approach, especially for students with no, or very little, English. Where possible, the best approach is to design or evolve a tailor-made course for students following an initial language assessment and needs analysis. Then a 'mix and match' approach can be adopted using volunteer-created materials, which include realia and authentic material from everyday life, and mixing these with carefully-selected teaching materials freely available on the internet.
A Google search will throw up lots of websites hosting or sharing free teaching ideas, activities and downloadable practice exercises for all aspects of standard EFL. However, there are also websites which cater more for the circumstances that refugees find themselves in, providing contextually relevant material and an introduction to practical aspects of living in the UK and so-called 'Skills for Life'. One example is the Excellence Gateway ESOL page. This site is a bit challenging to navigate around but there are some useful resources here. Users need to create an account.
For prospective or new volunteers, or teachers wishing to understand more about volunteering with refugees there are several free and open courses (MOOCs) online. See for example Volunteering with refugees. This MOOC is due to run again from 15 January 2018 or you can sign up to join a later course.
The Crisis Classroom website also offers some useful background for volunteers.
Next month's blogpost will consider the situation of Syrian students aiming to study in Higher Education in the UK and the resources that are available to help them with this.
If you have a question related to academic life and study in the UK and you can't find the answer in the Prepare for Success learning resources, write it on the Question Wall and we will try to answer it here in the blog next time.
Posted By :
Prepare for Success