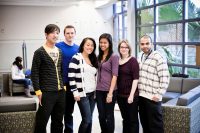 This month's guest blogpost is provided by Becs Christofides, a writer for Mears Student Life:
It can be difficult settling into university life as an international student. Many things are new: the country, the culture, the people, and sometimes even the side of the road you're supposed to drive on. Making friends at university can be a daunting experience for anyone, because the pressure to make friends and meet new people is always there. But to help you feel more at ease, here are five ways to make friends as an international student:
1. Get involved!
To help welcome international students to student life, many universities run welcome events specifically for international students. It's definitely worth finding out the dates of your welcome week so that you don't miss out. Once you get to your university, you'll meet lots of new international students who are going through the same thing. There will often be ice-breakers (ways to get to know each other) too, so you won't have to worry about starting a conversation, or being nervous and shy. There are many activities to choose from: walking tours, coffee outings, cinema trips, and more. So, take your pick and get yourself involved!
2. Join a society!
Universities are known for their numerous societies and sports clubs. They're great fun and the perfect place to make new friends. No matter what you're interested in, there's plenty of choice to find your preferred hobby. Many university societies run regular social events for students to get to know each other. You'll have the chance to meet like-minded people who are interested in the same things as you.
Many universities have an International Society specifically for international students to meet each other, go on days out, and make new friends. So, what are you waiting for? Get yourself down to the Freshers' Fair and sign up!
3. Follow your Students' Union!
Twitter, Facebook, Instagram, and Snapchat. Whatever your choice of social media, make sure you're following your students' union so you can stay updated on events. Club nights, comedy nights, open mics, and quizzes – there's always something happening in your students' union. Even if you don't fancy a big night out, spending time in your students' union space is a great way to meet students from different areas of your university. There's nothing stopping you from putting on your own event-night either.
4. Get adding!
Nothing sparks a friendship like making it official on Facebook. Don't be afraid to connect to your new coursemates, peers, and housemates on social media. Social media is a perfect way to find out what everyone's doing, giving you the opportunity to join in. Make sure you're following university pages. There are often Facebook groups for all sorts of different things: specific course pages, university pages, and don't forget the international students page either. Make sure you're following all three to be sure not to miss out on anything.
5. Put yourself out there!
University is all about experiencing new things and gives you the chance to meet people from all backgrounds and walks of life. To get the most out of your experience, try putting yourself out of your comfort zone and be brave when it comes to being open to new things. Make that conversation, go to that party, attend that study group. Don't let any opportunities pass you by. If there's an invitation, accept it. It's time to create new experiences and make new friends!
If you're nervous about settling in to your new university, there is always help on hand. On your first few weeks, there will be student volunteers to advise you on any issues you might have. Remember: everyone is in the same position, so go and enjoy yourself.
If you have a question related to academic life and study in the UK and you can't find the answer in the Prepare for Success learning resources, write it on the Question Wall and we will try to answer it here in the blog next time.
Posted By :
Prepare for Success