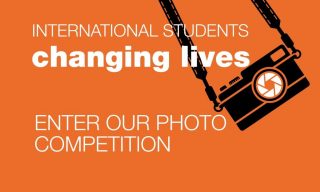 To celebrate UKCISA's 50th year of supporting international students, they're inviting you to enter a photo competition to show some of the excitement, achievements and surprises you've faced and how studying in the UK can change lives. They're welcoming photographs that illustrate any aspect of studying in the UK. Themes include excitement, challenges, hopes for the future and surprises. A full list and further details are available at https://ukcisa.org.uk/competition
How do I enter?
Submit a photo and accompanying statement about what the image represents and how it demonstrates life in the UK as an international student. The photo must be the original file (to ensure printable quality) and in landscape format. Send us your entry by 5pm on 30th October 2017. Those judged to be the best 12 will be featured in a 2018 printed calendar to be sent to all of UKCISA's university and college members.
The 12 winners will also receive:
a £50 Amazon voucher
a copy of the calendar
a 'UKCISA Certificate of Commendation'
an invitation to our anniversary reception event in 2018 (date TBC)
The best 50 photos and stories will be featured on ukcisa.org.uk throughout 2018. Read the full details and enter!
Posted By :
Prepare for Success