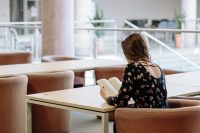 This month's guest blogpost is provided by Amy Hirst, a writer for The Student Housing Company:
So you've sent off your UCAS application to study in the UK and now you're waiting on your exam results! With over 400,000 students starting their new lives as undergraduates in Britain every year, there's never been a more exciting time to apply.
But what about when it comes to results day? How do you keep track of your application and make sure you've got the grades you need to start your chosen course? Read our article to find out and to help you get ready for the big day!
Results Day
You can log into UCAS Track to see if you've got onto your chosen course. If you've achieved the grades you need, your 'conditional' offers will show up as 'unconditional' and you can celebrate! At this point, your first-choice university will get in touch to let you know what you should do next.
But remember that your exact marks won't show up on Track. You will need to visit your school to see how you performed in each exam.
If you don't get the results you want, try not to worry. When you're just a few marks shy of getting into your chosen university, you can always call them up to see if they will nonetheless accept you.
Clearing
If you don't get the grades you need, you can still go through Clearing. This is a service that allows you to choose a different course and it's completely free for international students. Just book a consultation (you can do this via Skype), and your consultant will contact other universities on your behalf.
Once they've found a few courses that are suitable for you, just pick the one you like the most and add it as your 'clearing choice' on your UCAS account. If you want to find out some extra info about Clearing, read The Student Housing Company's Uni Application Checklist and you'll stay one step ahead.
Studying in the UK
As excited as you may be, travelling to Britain can seem daunting. The culture in the UK will probably be different from your own, and if you're leaving home for the first time, being in a new country might feel scary.
But don't worry, help is at hand. Most universities have student-support officers available to assist you. There are also plenty of social groups you can join. Whatever you enjoy doing in your spare time, there will be a university society dedicated to it. There are loads of clubs set up just for international undergraduates too, so you can make lots of friends!
Finally, if you're feeling homesick or overwhelmed by being in a different place, mental health support staff are usually available to talk you through your problems. Make use of them so that you can enjoy your time in Britain!
Whatever you study in the UK, make sure you have fun. Remember that you will be working hard, but you will also develop as an individual. So put yourself out there, make new friends, and enjoy your time as a student.
Get Your Accommodation Sorted
Finding sound accommodation is just as important as getting onto the right course. You need to live in a relaxed and comfortable environment where you can make friends. Find out more about the Student Housing Company's student accommodation options so you can quickly settle into your new life.
If you have a question related to academic life and study in the UK and you can't find the answer in the Prepare for Success learning resources, write it on the Question Wall and we will try to answer it here in the blog next time.
Posted By :
Prepare for Success