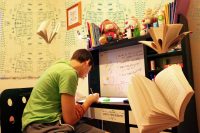 This month's blogpost is provided by John O Brooks, an educational content developer, blogger and online tutor with an interest in software.
The International Baccalaureate (IB) is a global-standard academic programme run by the Swiss-based International Baccalaureate Organisation (IBO). There are other academic programmes available but the Diploma Programme is one that you could consider.
The Diploma Programme (DP) is a two-year pre-university course that you can take in your sixth form, college or last two years of high school, as an alternative to other qualifications such as A-levels.
However, you need to be enrolled at an IB-accredited school to be able to take the Diploma Programme. If you are studying outside the UK, there are about 4,000 such schools in 148 countries. But before you get carried away, it is worth checking out first if your school is one of them.
If you are an international student studying at IB or A-level at a UK sixth form or Further Education college, this will help you decide whether to take an IB academic programme at a school outside the UK.
Will you be able to get into UK universities?
Unfortunately, there is no guarantee that success in the IB programme will get you into a UK university. Although it is highly-regarded by UK universities, it is valued differently; depth of knowledge and involvement in activities related to what you want to study is often more desirable than a broad range of subjects.
If you are applying for a degree in the UK, admissions officers will look for proof that you are knowledgeable in the subject area. You will need to prove to the university that you are really interested in the field.
However, this does not mean that taking the IB will hinder your application. The truth of the matter is that there is high respect for IB students. It is just not necessarily as valuable as it may be in the United States.
What IB score do I need to get into a top university?
Another thing to consider when planning to enter the IB academic programme is the required score to qualify for an IB-accredited university in the US or UK.
In US universities, they do not release specific IB Diploma Programme cut-off scores. If you want to enter an Ivy League or more selective US college, you will need a mix of scores of sixes and sevens to have a chance of getting admitted. A score of 40 will make you competitive but a score of 38 is considered a good grade. If you are aiming for admission in an Ivy League college such as Princetown or Columbia, you would need to get a score of at least 36.
UK universities are much stricter when it comes to IB admission scores. They will not only consider your overall IB DP score but also your grades in specific higher-level subjects. UK universities commonly have different score requirements depending on the degree. Some universities even have cut-off scores across the board which makes admission much easier.
Both UK and US universities have a high regard for the IB programme because they are well aware of the difficulty and intensity of the programme. They also believe that the programme provides enough preparation for students for university education.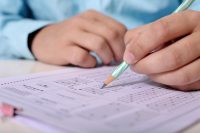 Tips for doing well in your IB academic programme admission test
Once you have decided to take the IB academic programme at a school of your choice, preparing is the key to successfully passing the admission test. Here are some tips on how you can pass this competitive exam.
Organise
Although some IB teachers will require a notebook for turning in assignments or a pen for exams, most do not really mind how you organise your materials. Organising your notes, handouts, and other study materials can go a long way in ensuring that all valuable information you need for the exam will be intact.
Take notes
You may find it difficult to remember everything from your lectures. You will be dealing with specific details that cannot always be easily retained by your brain. When taking notes, do not just use keywords but make a detailed summary of what the teacher is talking about. Use bullet points if possible and do not try to transcribe the whole lecture.
Complete work on time
The IB academic programme is such a fast-paced course, so falling behind on the lectures can be detrimental. You may not be able to catch up if you fall behind. Also, the work you submit will often count towards your final grade. Submitting homework or worksheets can be valuable for offsetting a low test or exam grade. Thus, you should try your best to submit assignments before or on the due date.
Find test preparation materials
A good thing about the IB programme is that there are already a lot of resources that can help you prepare for the exams, including books, flashcards and Khan Academy videos. There are online apps that can give good practice questions and quizzes as the exam draws near. It is good to start using these near the beginning of the course.
Do the readings
You will need to do a lot of reading in an IB programme. The lesson covered in the lecture may be expanded on in the reading. It is your responsibility to know both the lecture and reading materials for the exam. Without doing the required readings, you will miss out a lot of valuable knowledge. Find time to read the assigned reading material.
Be Confident
Having the right mindset is one of the keys to passing the IB programme. Treat them like a regular sixth form or high school course. The only difference is that they are faster-paced. Be confident and ready to work hard and you are on your way to getting admitted to the IB academic programme.
If you are on a low budget and there are not enough teachers, you can consider working with an online tutor. There are many tutors to choose from worldwide.
Image Sources: https://pixabay.com/photos/studying-exams-preparation-951818/ and https://pixabay.com/photos/man-men-hand-person-people-male-3653346/
Posted By :
Prepare for Success