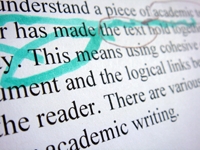 This month's guest post is provided by Henry Fagg, founder of UK tutor directory The Tutor Pages:
It is becoming increasingly common for international students to hire a private tutor to help them with their studies at British universities. But what are the advantages of this, and are there any pitfalls?
Check what your university offers first
Most universities these days provide very good additional support for students in all areas of academic life. Courses are generally offered in how to develop academic English and your communication skills for the academic environment.
Other courses may be offered in further study skills such as critical thinking, presentation skills, revision skills and exam technique.
Consult with your supervisor or tutor about employing a proofreader
If you do not think that the support you can access is adequate for your needs, you should discuss this with your supervisor or tutor.
If you are concerned that your written English may contain grammatical mistakes, then your supervisor may suggest that you employ a proofreader to help you check your work. It may not be appropriate in all circumstances, and so you should check with your supervisor beforehand.
The role of a proofreader is to identify and correct errors in your written work, and it is likely that you would have to pay for this yourself.
Do not stray into plagiarism
Be very clear that a proofreader must not substantially change the meaning or content of a piece of work. For example, they must not correct factual errors or rewrite your work to improve the arguments you make, or re-arrange paragraphs to improve the structure of your work.
If you ask someone else to write something for you, or if someone makes substantial changes to your work, this is classed as plagiarism. Other forms of plagiarism include copying another student's work or including a quote from a book or website without referencing your source or using quotation marks.
Universities take plagiarism extremely seriously because the point of university study is to develop the ability to think for yourself. There are serious consequences if you are caught plagiarising, ranging from the loss of marks to being expelled from the university.
The problem of 'essay mills'
In recent years, there has been an increasing issue of students purchasing essays, often online, to submit as their own work. Companies which provide this service are called 'essay mills', and the UK university exams regulator has recently asked the government to introduce laws to ban such services altogether.
What about employing a tutor?
Employing a tutor is entirely different to plagiarising. Tutors will typically offer a range of services. These will include proofreading as mentioned above, but also other guidance which will improve your academic writing overall.
A tutor can help you with such areas as expanding your vocabulary, structuring an essay, developing a convincing argument or improving sentence structure.
You can sometimes find a tutor or proofreader through your university. Other ways to find a tutor include searching for a local or national tuition agency. Finally, a tutor directory – where tutors advertise their services – is another straightforward means to find a tutor suited to your needs.
If you have a question related to academic life and study in the UK and you can't find the answer in the Prepare for Success learning resources, write it on the Question Wall and we will try to answer it here in the blog next time.
Posted By :
Prepare for Success