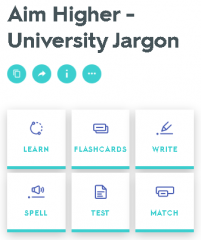 This month's guest post is provided by by Julie Watson, Emeritus Fellow in eLearning and creator of Prepare for Success, and follows on from last month's post about Teaching Syrian and other refugees:
For refugees wishing to enter UK Higher Education, it can be a challenge to know how and where to begin. There are many practical questions such as how to apply; how to finance your studies; how to provide evidence of your previous studies and, of course, how to provide evidence of an adequate level of English.
A very useful website to use as a starting point is Refugee Study. This website contains lots of practical information about scholarships and grants as well as advice about how to obtain funding for study and links to website listing recognised qualifications obtained overseas.
Many of the questions that refugees have are also addressed in the open and free online course (MOOC): Aim Higher: Access to Higher Education for Refugees and Asylum Seekers. Student participants can create an account and select 'register interest' to receive information by email about the next running of this MOOC.
There are also MOOCs covering IELTS, which is an examination that many students choose to take to demonstrate their English level for UK study. These include:
Inside IELTS – the next course starts on 8th January or students can register their interest in taking a later course.
There is a lot of jargon around the process of applying to university but a useful resource that explains some important terms has been created by the Aim Higher MOOC team: Aim Higher University Jargon.
Finally, there is of course the Prepare for Success website and its range of learning resources dealing with the academic skills and language needed, and practical aspects of study in higher education in the UK.
If you have a question related to academic life and study in the UK and you can't find the answer in the Prepare for Success learning resources, write it on the Question Wall and we will try to answer it here in the blog next time.
Posted By :
Prepare for Success