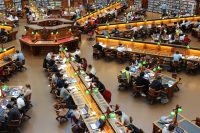 This month's guest blogpost is provided by Dom Gibson, the educational content editor at Tutorful, the UK's fastest-growing tutoring marketplace. He spends most of his day researching new topics in education and writing articles on the subject. He spent a year abroad in Germany whilst at university, so knows a thing or two about the highs and lows of studying away from home! He is a passionate learner and believes education is the most valuable gift a person can be given, which is nice, because so does Tutorful. You can find details of some of the subjects they cover, including languages, here:
Moving away from your home to study at university opens a new chapter in your life. Whether it's your first degree, or your third, it brings new opportunities for learning, making friends and exploring a whole new world. At the same time, it often brings a solid dose of that homesickness.
Homesickness is very common amongst students starting a new course, at a new campus. Even if many students do not tend to express it, everyone has felt the sense of sadness at missing home. This is especially true for the first few months of your new life on campus. It is perfectly natural. You miss the home, the family, the friends, the lifestyle back home – simply because you've been used to it for such a long time.
Missing home provides you with an opportunity to grow as a person. Some emotional pain is the key ingredient to emotional growth. The good news is that this feeling goes away with time. Here are some tried-and-tested tips that will help you beat the 'blues' and let you get up-to-speed with your new life at university.
Get out of your room
That's it. Don't sit in a corner and think too much about this feeling of homesickness. The more you isolate yourself, the stronger the feeling is going to get. To beat it, get out, go on a walk, explore the eateries at your new university, check out the sports facilities, go swimming or simply visit the nearby town. Divert yourself and get busy; find things that you enjoy and indulge. This may be as simple as finding yourself a cafe, getting comfortable and having a quiet cup of tea or coffee.
Get busy
Every university comes with a wide range of opportunities for curricular and extracurricular activities. The first few months of your new course are the perfect time to find and join the ones that match your interests, especially if you are feeling homesick. Joining these activities will embed you in social groups with interests similar to you. It will also give you an opportunity to spend your time constructively.
Ask yourself what is a better use of your time: to sit in your room and think about all things home, or to build a prototype, find a position on a sports team, become a member of a charitable society, a music group or something similarly productive. It may be understandably hard and you may have to drag yourself to do things during those first few weeks but if you succeed, you will be the stronger and better for it.
Define your goals and focus
You have joined your university for a reason. It is time for you to define concrete goals in line with that reason. Do you want to score the highest academic results and secure scholarships? Are you looking to join a research-intensive field during your final year? Do you have a definite career towards which you want to work? The time to start work on these goals is the first months of the initial year.
Defining your goals will help you focus on them more clearly and ward away the feeling of homesickness. A good rule-of-thumb is to define short-term as well as long-term goals. You can give yourself weekly or monthly milestones or challenges. Completing them will give you a sense of achievement that you are heading in the right direction.
Connect with other people
When you arrive at university as a new student, you are a complete stranger to your surroundings, even more so if you've travelled from another country! This means that you have to get used to the surroundings, and to make an effort to form new social connections in the classroom, at your accommodation and around the campus in general.
Doing so will be a lot easier if you are socially active. Simply join the communities, organisations or clubs that you find interesting or that are relevant to your course. This will immediately open the doors to various social groups where you can share your thoughts, grow intellectually and form friendships.
Have Constructive Fun
Yes, you are at the university to study, learn and work towards a career goal. That doesn't mean you can't have fun. Everyone has his or her own idea of fun. An awesome way of maximising your time at university is to combine fun with productivity. You can, for instance, learn new languages at the university and enrol on language courses that you find interesting. Many universities offer free conversational language exchanges which are a great way to meet people, hone your abilities and make the most of your free time.
You can even explore tutoring and teaching opportunities at the university or in the cities or towns nearby. Getting yourself set up as a language tutor can give you a great opportunity to earn a bit of extra cash, subsidising your living costs whilst helping you to connect with local people and really get the most out of your time experiencing another culture. You could cover anything from French to Mandarin and everything in between – it's really up to you! Before taking on any work (paid or voluntary), check the terms of your visa (if you require one) as some may not permit you to work or may place limits on your working hours. More guidance on this is available on the UKCISA website.
Such courses, qualifications and work may require as little as an hour of your time on a daily basis. The long-term rewards can be significant – from stand-out qualifications which give you an academic edge over peers, to work experience as freelance teacher or tutor.
Homesickness is a perfectly natural feeling. At the end of the day, the best way to overcome it is to embrace your new life and your new surroundings. Find things that are of interest or value to you and get busy. Connect with people you like. You have made the choice of going to university and starting a new chapter of your life – and you will be able to write it best if you take its challenges head-on with confidence, boldness and courage.
If you want to learn more about moving to the UK to study, visit our activity "Settling down to study", which includes a video of students talking about the challenges of studying away from your home country, and "Adapting to a new life", which will help you to prepare for the cultural challenge of moving abroad.
If you have a question related to academic life and study in the UK and you can't find the answer in the Prepare for Success learning resources, write it on the Question Wall and we will try to answer it here in the blog next time.
Posted By :
Prepare for Success