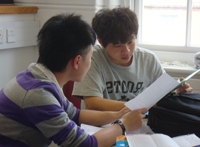 Our latest guest blog post describes several ways you can improve your conversational English, and is provided by Ruth Bushi from student money website Save the Student:
If the thought of talking to native UK speakers leaves you tongue-tied, don't panic! Save the Student reveals the free resources that can boost your confidence as well as your ability.
1. Get involved
Taking part in local clubs and groups doesn't just increase your language skills: it can also help you feel less isolated and more rooted in your new community. So, don't just stick with what you know – get out there and mingle!
Volunteer for a local charity. It's a great way to get cosy with your community, plus you'll meet people who value your input. Visit charity shops to find vacancies, or take a look at do-it.org.uk for all kinds of other opportunities. Not sure what's involved? This ultimate guide to volunteering explains it all!
Join a student society. It doesn't matter if it's about walking, reading, or playing a sport – just pick something you're passionate about and you'll already have something in common to talk about.
2. Swap your skills
A language swap – where you teach the language you know to someone who speaks the language you're learning – is a neat way to practice English without the pressure. It can be as simple as having a conversation in each language for a few minutes, or taking turns to explain common vocabulary or trickier slang words.
Your university may be able to put you in contact with other students keen to swap, but you could also keep an eye on department noticeboards and course forums. If you're not yet in the UK you can still take part in a language swap by email, or using free video messaging apps such as Facebook and Skype.
3. Don't sweat over slang
Understanding slang (informal words and phrases) and accents can be the most challenging thing about learning a language. The good news is that, whether you want to learn Cockney or understand a Scottish accent, someone on YouTube can show you how!
Try searching for British slang, UK dialects or How to pronounce British words. You'll also find tons of tutorials on how to master British accents: don't be shy about repeating what you hear and having a go yourself (unless you're out in public – that can get you some curious looks).
4. Catch-up with films and TV
Watching films in English is a great way to immerse yourself in the language (well, it's a good excuse, anyway!)
Unfortunately, movies don't really reflect real life or useful phrases: the Brits don't spend that much time fighting aliens. We don't all wear bonnets and live in mansions, either!
That said, some viewing can be a valuable for cultural insights, as well as for hearing real-life English. Try these on for size:
Anything by director Mike Leigh: not always the cheeriest of films, but great for hearing everyday speech and regional accents.
BBC Three or BBC II!, as it likes to call itself, is an online-only BBC TV channel with more diverse, regional content, plus a window into British humour. There's also Channel 4, though note that access to programmes on either depends on where you are in the world.
Star Wars Episode IV: if someone's talking to you about droids, it's quite likely they're referencing this film rather than a phone operating system!
5. Read regional news
You won't run short of news on TV or online, although much of it can have you thinking nothing interesting happens outside London. Reading the regional news can give you some history and context about your new home, and means you'll always have something to talk about with taxi drivers (note: they do most of the talking…)
Try www.bbc.co.uk/news/uk and follow the menu to navigate to your region in the UK.
You can find links to almost every regional and local UK newspaper on this Wikipedia page.
Don't just read the news! If you want to see more fluid language in action, check out magazine content or look for student blogs: they're perfect for picking up slang, jokes and hot topics.
6. Ask questions
If something has you stumped (i.e., utterly confused), don't panic. Just make a note to ask about it later, whether it's someone on your course, someone on Reddit or some guy in the supermarket. Most folk love explaining what makes their language, town or country quirky, brilliant or bizarre – so don't hold back about asking for an explanation.
For language-specific queries, the forum over at Duolingo can be a mine of information (plus you can brush up your grammar skills in 20-odd languages while you're there).
Getting by in a new language isn't just about mastering grammar rules and perfect pronunciation. A lot of what you need to feel at home will happen naturally as you immerse yourself in local life. Be patient, stay curious, and it'll happen!
If you have a question related to academic life and study in the UK and you can't find the answer in the Prepare for Success learning resources, write it on the Question Wall and we will try to answer it here in the blog next time.
Posted By :
Prepare for Success