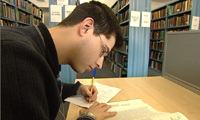 This week's blogpost is about academic assignments and the grades you may receive.
A part of their course that many international students worry about is the course assignments and the grades received for them. This is understandable as passing or failing a course usually depends on how well you have performed on assignments and/or in exams. Assignments on courses in the UK can take different forms. As well as common kinds of written assignment such as an essay or report, in many subject areas you may be required to give an oral presentation as part of your course assessment. This might be done on your own or in a team. Depending on the specific subject area, there are also other kinds of assignment tasks for which you can be awarded a grade.
Whatever kind of assignment you are asked to do, the criteria on which your work will be judged should be available from your tutor or departmental office. These written criteria will help you become aware of what your tutor will be looking out for as they mark your work.
An important point to note for international students is that typical grades awarded in their own country may be very different from typical grades awarded in the UK. Don't be too shocked if you don't receive a grade over 80% for an assignment. As a general rule, at postgraduate level, a 'Distinction' will be a grade over 70%, with only very exceptional work getting a grade over 80%. Most grades will fall into 50-59 (Pass) and 60-69 (Merit). Below 50 is usually considered to be a Fail.
Lastly, don't just focus on the grade you receive. You will do many assignments during your course so there is a lot of opportunity to improve your grades as you get more practice at doing assignments! Tutor feedback on your assignments will help with this. Take time to read the comments and remarks your tutor has written when you get your assignment back. If you cannot read or understand a comment, ask for clarification. Slowly but surely your assignments and grades should improve!
For more information in this area, see 'How will my assignments be graded' under 'Assignments' on the FAQs page of Prepare for Success. See also the learning resource Preparing for course work and exams.
If you have a question related to academic life and study in the UK and you can't find the answer in the Prepare for Success learning resources, write it on the Question Wall and we will try to answer it here in the blog next time.
Posted By :
Prepare for Success