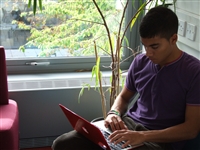 This month's guest blog post is by Andrew Davey, Technology Specialist in eLearning from the University of Southampton. In it he looks at some of the steps international students may need to take when bringing their own devices, such as personal laptops or tablets (iPads or Android), to use at a college or university in the UK.
Facilities
Most UK institutions have on-site computing facilities. These provide support to students and staff across campus in getting networked and using the institution's online services and licensed software. Some of the instructions for getting your own device networked will often be online, so once you have an institutional username and password (usually the same as your email login details), you will be able to log in and follow instructions to access services. Students often bring their own devices to classes or lectures in the UK to support their studies and use them to work online also when not being taught. For these reasons, it is important to get your device connected as soon as you can after you arrive.
Accessing University resources off-campus
You may wish to access resources such as a personal filestore when you are away from your institution. It is important to have access to this and other services such as the library while off-campus and studying at home. This will usually be possible through a 'Virtual Private Network' or VPN, which allows you access to systems as if you were using an institutional device. Your institution may provide an app for ease of connecting to the VPN, or a set of instructions may be available.
Email
In the UK, email underpins much of the communication between tutors and students on their courses. You will need to check your institutional email account on a daily basis in case there are any important messages from your teachers, department or the university in general. Spam emails can be a problem in most institutions so when using email accounts, avoid opening attachments from unknown sources. Some emails may contain a virus or spyware, which can help give hackers access to your accounts. Always make sure you have an up-to-date virus scanner installed on your device. You may be able to obtain one for free as part of an institutional licence, or you may have to purchase one separately.
The institutional VLE
Your institutional VLE (virtual learning environment) will be an important place to locate module and course information. Find out which VLE our institution uses and familiarise yourself with as soon as you have your institutional login. Blackboard and Moodle are both popular VLEs used in the UK. To find out more about how VLEs are used by course teachers, look at this learning resource: Preparing for Online Study.
Social Media
If you have any social media accounts, you may also wish to connect with these to your department or University by 'following' them on Twitter or 'liking' them on Facebook. For study tips and academic guidance you can follow @PfS_website on Twitter or Prepare for Success on Facebook. For general advice about life and study in the UK you can also follow @UKCISA.
If you have a question related to academic life and study in the UK and you can't find the answer in the Prepare for Success learning resources, write it on the Question Wall and we will try to answer it here in the blog next time.
Posted By :
Prepare for Success