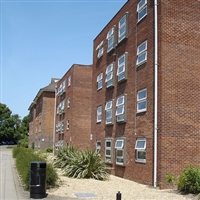 Today's blog post is in reply to a question from a student on the Question Wall:
"Could you give some ideas for accommodation – should I stay in university residence or rent outside with someone?"
As an international student you may need to decide where to live during your studies in the UK. Many UK universities will offer international students a room in a hall of residence – this can be convenient and removes the work of searching for a place to live in the town or city. A hall of residence may be located on- or off-campus but all costs will usually be included in your rental fee.
The most common alternative to this is renting a shared house or flat with other students. You may feel more immersed in the local community if you choose this type of accommodation but you will also need to budget for other costs such as utility bills (e.g. electricity and gas use).
There is likely to be detailed information about the accommodation choices available to you on the website of your college or university, or you can contact the accommodation office. Some useful information for international students about living in the UK, including detailed information about paying rent and other costs and signing a contract, can be found on the Choosing accommodation page on the UKCISA website.
If you have a question related to academic life and study in the UK and you can't find the answer in the Prepare for Success learning resources, write it on the Question Wall and we will try to answer it here in the blog next time.
Posted By :
Prepare for Success