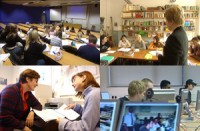 This month's blog post considers some of the different ways you can expect to be taught during your studies in the UK.
Traditional ways of being taught on a university course in the UK include through a mixture of lectures, seminars, tutorials and possibly workshops, depending on your discipline area. Some of these may be unfamiliar to international students, especially if they have been taught in a different way in their home countries. Even a teaching method such as a 'lecture' may be delivered differently in different academic cultures, so it is important to know what you should expect as a student coming to study in the UK. For a basic introduction to these four ways of teaching have a look at Ways of being taught on your course first.
Lectures generally last between 30 to 50 minutes and traditionally involve students in listening and note-taking. The lecturer may use visual aids (usually presentation slides) whilst speaking. These, along with a recording of the lecture, may or may not be available afterwards for you to refer to. It is useful to take notes, even if they are available, to add to your understanding. You may find that some of your lectures in the UK are quite interactive. There will usually be an opportunity for one or two questions from the audience at the end but some lecturers also use other polling devices to engage students in the topic – these allow the student audience to participate more actively, by thinking and voting on issues or predicting the outcomes of research mentioned during the lecture itself.
Some lecturers might even ask you to watch a pre-recorded lecture and then use a seminar for discussion of the key points or extension activities to deepen your understanding. Seminars are a typical way of teaching found in most UK universities. Usually groups of up to 20 students discuss an academic paper, a presentation or a topic with their tutor. It is expected that students speak as well as the tutor, and it is an opportunity to develop your critical thinking skills as well as to explore different opinions or perspectives on a topic. Small group tutorials may also serve some of these functions.
A tutorial in many universities involves a one-to-one meeting with your tutor. The meeting might typically focus on your academic progress, feedback for an assignment or negotiation of an assignment or dissertation topic if you are a postgraduate student.
In science and applied science, lab sessions and workshops often take the place of seminars and these may involve following a practical set of instructions or carrying out an experiment.
Lastly, blended learning practices can now be found embedded across UK universities. Although much of your course will probably take place in a face-to-face context, you may also find that part of it is delivered or undertaken online. You will be expected to use a range of technologies, not only to support your independent learning but also possibly to receive some of your teaching. Technology is likely to have an impact at all levels of your study, from contacting your tutor (by email) to even doing part of a taught module online with other students.
If you have a question related to academic life and study in the UK and you can't find the answer in the Prepare for Success learning resources, write it on the Question Wall and we will try to answer it here in the blog next time.
Posted By :
Prepare for Success