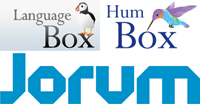 This week's blogpost is about locating learning resources that can help you learn more about the subject you are studying.
Previous blog posts have suggested where to find online learning resources that relate to developing your academic skills in reading, writing, listening and speaking, and those that can help you develop your vocabulary and grammar in English. The free learning resources in Prepare for Success are a good place to start for this.
For students who come to the UK to study a particular subject through the medium of English, there are also useful resources online to help them develop their subject knowledge. Some online resources also combine subject-specific content with English language development.
Teachers increasingly use online repositories (banks or storage places) to store and share many of their teaching and learning resources as 'open content'. More and more of these are free to access and web-based. Students can also search and use them to find resources for independent learning. For students of languages and other disciplines in the Humanities, two repositories in the UK are LanguageBox and HumBox. Students can sign up for a free account and then browse and bookmark any resources that they wish to use. Each resource may have been made available (by the person who uploaded it) either to download for use or use directly from a web link (URL).
Another large UK repository containing many different subject-specific learning resources across the Sciences and Arts and for Further Education (FE) and Higher Education (HE) is Jorum. The resources in Jorum can be freely browsed but need to be downloaded for use.
In USA, there are also some large repositories of teaching and learning resources. MERLOT II is a well-known one. It contains multimedia educational resources in a range of subject areas, and students as well as teachers can sign up to use its resources for free. Wisconsin-online is another free-to-use digital repository of interactive 'learning objects'. Users can learn directly from resources online or download them.
There are many other smaller repositories of teaching and learning resources that can help you to learn independently in your subject area. An internet search engine such as Google will help you find many more.
If you have a question related to academic life and study in the UK and you can't find the answer in the Prepare for Success learning resources, write it on the Question Wall and we will try to answer it here in the blog next time.
Posted By :
Prepare for Success