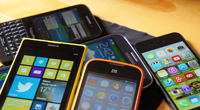 Image courtesy of jfingas (Flickr).
This week's blog post considers how to make the most of the online environment at your university or college.
When you arrive in the UK and begin your course of study at a UK college or university you will need to get used to going from one place to another on a daily basis, between buildings, across campus or even between campuses if your place of study is a large one. The teaching timetable will require that you quickly get to know the location of lecture theatres, seminar rooms, computer workstations and possibly labs, and of course, administrative offices, the library and student union facilities (including shops and restaurants) as well. Don't worry! Even if at first you get lost, you can ask other students for directions and it won't take you long to learn.
However, for some aspects of your study programme you will be able to save time and effort by using your institution's online facilities. Your library will almost certainly have an online website and online catalogue which you access from anywhere, log in and use to search for course books and other materials that you need to read or reserve to collect later.
Setting up and regularly checking a university or college email account is very important and one of the very first things to do after you arrive. Your lecturers will often contact you by this means to make you aware of important dates and events for your course diary. Your institution's administration will also use it to contact you. You may be able to arrange an appointment to see your tutor by sending a polite and clear email (although some tutors prefer to use a signup sheet on their door to show when they are available to see students individually).
It is very likely that your college or university will have a downloadable and dedicated institutional app for your phone. This can be customised by you, and may provide information while your are on the move about your timetable, the library, campus maps, local bus times, your modules, student news and social events and much more. Find the computer support service on your institutional website to find out how to download the app.
So after you have physically arrived on campus, don't forget to get yourself online!
If you have a question related to academic life and study in the UK and you can't find the answer in the Prepare for Success learning resources, write it on the Question Wall and we will try to answer it here in the blog next time.
Posted By :
Prepare for Success