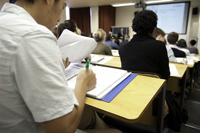 This week's blogpost is in answer to a student who is finding lectures on their course hard to understand.
Listening to and understanding an academic lecture in a second language can be challenging. Making notes on the lecture topic at the same time can make it doubly difficult. If you are a new international student still struggling to get the most out of the lectures on your course, here are some tips which may help you.
If the lecturer uses Powerpoint slides or other visual aids while giving their lecture see if these are available before or after the lecture on a website or course VLE. They will provide a structure for what he or she talks about and can help with your understanding during the lecture or afterwards when you are trying to build up the notes you have made.
If you are worried about your understanding of the main points in the lecture, can't catch everything the speaker says or wish you could listen to it again, ask the lecturer beforehand if they would mind if you recorded them. Many lecturers will be happy to let you use a small recording device provided that you ask permission beforehand and that it is only for your own private use.
If you found a lecture challenging to understand, afterwards get together with another student who attended the lecture and compare your understanding and any notes you have made. In this way you can each help each other to understand more.
If you feel you need help with listening to lectures, use the Prepare for Success learning resource 'Listening to lectures'.
You may find this section of Andy Gillet's website useful: Listening comprehension and note-taking.
And don't worry, listening is one of the skills that improves fastest for international students after arriving in the UK.
If you have a question related to academic life and study in the UK and you can't find the answer in the Prepare for Success learning resources, write it on the Question Wall and we will try to answer it here in the blog next time.
Posted By :
Prepare for Success