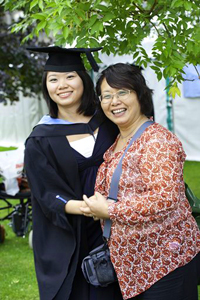 This week's blogpost is in answer to a student's question about the end of study on their Master's degree programme and the graduation ceremony.
At the end of any course that you have successfully completed there is usually a celebration. In the case of an undergraduate or postgraduate degree programme, this often takes the form of a graduation ceremony.
This is an opportunity to dress up and celebrate your success. Students who are about to graduate (called 'graduands') hire a gown and mortarboard (headgear) to wear for the ceremony (see image). This is often accompanied by a sash or other item that is specific to the Faculty or university/college from which they are graduating.
The ceremony, which can last up to two hours, includes speeches. All graduating students, if present, are called to the main stage individually to receive their degree certificate.
Invited guests also attend the ceremony. These are often the parents, relatives and/or friends of the person graduating. There are opportunities for both formal photos – a professional photographer is normally available after the ceremony, and informal ones with family and friends.
Finally, everyone attends a drinks and canapés or similar reception with members of teaching staff to celebrate together. Graduation is an event to look forward to and one that will bring back lots of happy memories in the future.
If you have a question related to academic life and study in the UK and you can't find the answer in the Prepare for Success learning resources, write it on the Question Wall and we will try to answer it here in the blog next time.
Posted By :
Prepare for Success