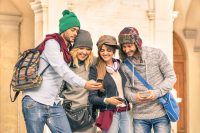 This month's guest blog post describes the different internet connection options available to students in the UK, and is provided by Broadband Genie:
Broadband is an essential utility for today's students, but finding a broadband service that's affordable and flexible enough to suit student life can be a challenge. So what do you need to know, and what are your options?
Broadband contracts and student living
A common problem faced by students is that the majority of broadband packages require you to sign a lengthy contract of 12, 18 or 24 months. This is problematic if you're only living in a place for a short period of time or aren't certain about your immediate future. Ending a contract early incurs a cancellation fee and that's an additional expense that most students would prefer to avoid.
One alternative is a short-term contract. While not commonplace, there are several ISPs (Internet Service Providers) – such as NOWTV, TenTel and DST – that offer broadband on 1-month, 3-month and 6-month agreements. This provides more flexibility as you can cancel at short notice without facing extra charges.
However, there are some disadvantages. These short-term packages tend to be more expensive than the long-term deals, both in terms of the running costs and the upfront fees. You will most likely need to pay a setup charge (often included for other packages) and may have to pay for the Wi-Fi router too. There's far less choice as well, with just a handful of ISPs offering short-term deals.
Another option is a student broadband deal. These are packages offered by a few ISPs (notably Sky, Virgin Media and BT) which are explicitly aimed at student users. The key difference with these deals is they come on a 9-month contract to fit with term times. They are only available at certain times of the year, but are worth considering if you see them as they can be good value and may help to avoid a cancellation charge.
If you do have to go with a regular 12, 18 or 24 month contract, make sure you're aware of the ISP's cancellation policy and what it might cost to end it early before signing up.
Which type of broadband is best for students?
There are various types of broadband available around the UK. What are the differences, and which is best for your student home?
ADSL
ADSL broadband using the BT telephone network is the most widespread and cheapest fixed-line service. It's available to the vast majority of premises and can be available for under £20 per month.
ADSL has a maximum download speed of 17Mb and an upload speed of just 1Mb, which is significantly worse than the alternatives. It's sufficient for one person or a small group of budget-conscious users, but sharing ADSL in a busy student home can be tedious as it can quickly slow to a crawl.
Pros: • Cheap • Available to almost every home • Wide choice of ISPs
Cons: • Slow by modern standards • Needs a phone line
BT fibre
Fibre optic broadband from the BT network is a vast improvement on ADSL. Download speeds reach 38Mb, 52Mb or 76Mb, and upload up to 20Mb is available. That makes it more suitable for handling multiple users.
It is, however, slightly more expensive, and is not as widely available. Just over 80% of properties do now have access to these services. While the service does run on the BT Openreach network, it is available from a wide range of ISPs just like ADSL, so there is plenty of choice when it comes to finding a package at the right price.
Pros: • Fast • Good choice of ISPs and deals
Cons: • Availability is still limited compared to ADSL • Needs a phone line
Virgin Media
Virgin Media operates its own fibre optic network and has the fastest speed of any nationwide ISP, with a maximum download rate up to 200Mb. That's very helpful if you have lots of housemates and are concerned about performance.
Pros: • Very fast • Doesn't need a phone line
Cons: • Must be in a Virgin network area • Virgin is the only ISP
Fibre To The Home (FTTH)
Some lucky students may have access to next generation 'FTTH' services. This is a full-fibre connection which can deliver incredible speeds of up to 1Gb, and does not require a phone line. This is only currently available in a few areas, but it's something that will likely become more widespread in the not-too-distant future.
Pros: • Incredibly fast • No phone line required • Surprisingly affordable
Cons: • Very limited availability
Mobile broadband
Getting your broadband from a mobile network is an alternative to fixed-line services because it is very flexible in comparison. Contract lengths are less critical as the connection is not for a specific location – if you move home the broadband comes with you and there are no fees to worry about. There is also the choice of long-term contracts, rolling monthly contracts, SIM-only deals and pay-as-you-go.
Provided you can get 4G, mobile broadband performance is now very good. Speeds can outclass ADSL and even approach entry-level fibre optic home broadband. The connection is less impressive on 3G, but still capable of handling most of what the average user will need.
The biggest drawback is the limited data cap. No provider currently offers unlimited mobile broadband, so you'll need to be very careful about usage to avoid extra charges or service limitations.
Pros: • Flexible and portable • Variety of contracts • 4G speed can be excellent
Cons: • Performance relies on a strong signal (You can check coverage using the Ofcom app) • Low data usage limits
If you have a question related to academic life and study in the UK and you can't find the answer in the Prepare for Success learning resources, write it on the Question Wall and we will try to answer it here in the blog next time.
Posted By :
Prepare for Success