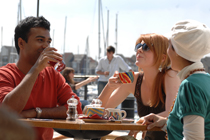 Today's blog post is in reply to a question from a student on the Question Wall:
"I think my reading and writing can improve in the UK through studies but how can I improve my speaking?"
In most universities and colleges in the UK there will be opportunities to improve your academic skills in reading, writing, speaking and listening in an academic context, particularly through the work that you do in seminars, lectures and through reading for and writing course assignments. There may also be extra classes that you can attend, which focus on these skill areas. However, international students might need to make an extra effort to find opportunities to practise speaking English informally, especially to improve their fluency. The best way to do this is obviously to make new English speaking friends and take every opportunity to speak English with them. Making new friends can take a little time so you might want to consider joining a few of the many clubs and societies run by your Student Union to help you meet people when you arrive. You may find new friends who are from your own country but if you want to improve your spoken English, it's important to socialise with people who don't speak your language too.
When speaking English informally, don't be shy or afraid about making mistakes when you speak. To improve your fluency in particular, it's more important to communicate and practise than to speak without making mistakes. Communication involves listening as well as speaking and many international students find that the first skill they notice improvement in is listening.
If you have a question related to academic life and study in the UK and you can't find the answer in the Prepare for Success learning resources, write it on the Question Wall and we will try to answer it here in the blog next time.
Posted By :
Prepare for Success