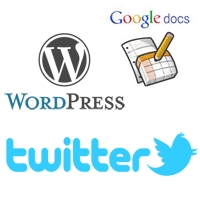 This week's guest blog post explores how international students can benefit from developing their online presence, especially with a view to enhancing your employment opportunities in the future. It is provided by Dean Reilly, Deputy Editor of Ofcom-accredited comparison site www.cable.co.uk:
The UK is a connected country and, if you want to get your future career off to a flying start, having a strong online presence is a great starting point for any international student graduate. There are plenty of options for you to start building your public profile online while studying, using social media and blogging tools that are highly functional, well-recognised and free.
The use of social media is now a recognised method for communicating with industry experts and insiders both in your own country and overseas. In the UK, starting an account on Twitter, Facebook or the network for professionals, LinkedIn – and keeping it up-to-date and relevant – is a great way to announce your own online presence and interests. Sites like LinkedIn are great tools for hosting your CV, making an impression and managing your professional identity. What's more, your profile will be searchable by potential employers, so by keeping it relevant you're doing a great job of advertising yourself to potential clients or employers.
Joining groups on these media can also help you find out about the key players and companies in areas that interest you, and keep on top of any news and developments. Eventually you'll develop contacts and connections that will help further your career once you start looking for work.
If you find yourself building up followers and gaining a reputation, one of the next steps would be to set up a website or blog. There are plenty of free online blogging tools available, such as WordPress, Blogger or Tumblr, that make posting your ideas simple and easy.
If you have a question related to academic life and study in the UK and you can't find the answer in the Prepare for Success learning resources, write it on the Question Wall and we will try to answer it here in the blog next time.
Posted By :
Prepare for Success