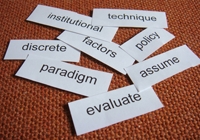 This blog post is in reply to a question from a student asking how to improve their vocabulary in English especially for academic study.
Having a good vocabulary range is important for effective study in higher education, but it is also necessary to be able to select and use vocabulary appropriately and show good grammatical control and higher level skills in organisation and structuring in your academic writing.
Electronic translators can be of limited usefulness for understanding how to use vocabulary appropriately especially if they do not include good examples of actual usage and information about collocation (which words commonly go together in English).
To improve your academic vocabulary, you are recommended to look at the Academic Word List (AWL) and AWL vocabulary exercises. This includes some of the most commonly used academic vocabulary from a range of subject areas as well as vocabulary common to many of them.
Another very helpful resource to use in vocabulary improvement is a concordance tool such as WebCorp or this one from the Hong Kong Virtual Language Centre. This helps you find and study authentic examples of word use to understand how a word works with other parts of a sentence.
If you have a question related to academic life and study in the UK and you can't find the answer in the Prepare for Success learning resources, write it on the Question Wall and we will try to answer it here in the blog next time.
Posted By :
Prepare for Success