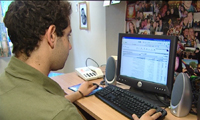 This week's post is by our guest blogger, Ofcom-accredited comparison site www.cable.co.uk, and gives advice about staying safe online.
The Internet is now an essential part of study in all disciplines but browsing and studying online can involve risk. Knowing where the dangers lie can help keep your personal information safe from hackers and your technology free from viruses.
Emails are essential for communicating when at university. When opening emails, be certain that you know the sender. Unknown emails (known as 'spam' in the UK) may contain viruses, malware or spyware that could harm your computer and put personal information at risk.
Be extra careful if you receive an unexpected email from a financial institution (such as a bank or PayPal) asking for your details. These messages are rarely genuine and are designed to get access your personal details. They are commonly known as 'phishing scams'. You may receive unexpected news about a competition you can't remember entering, or be told you've inherited large sums of money, yet there's a key thing to remember with scam emails: if it seems too good to be true, it probably is.
Be cautious about sharing personal data in social media groups. Hackers (individuals who steal personal data by accessing other people's accounts) are everywhere on social media. This includes Facebook, Twitter, Tencent QQ, Qzone and many others. There are two simple steps you can take to keep your details safe. Here are two tips:
• Create a strong password. Strong passwords consist of a combination of letters, numbers, and capital letters, and are very difficult for a hacker to guess.
• Change your passwords regularly. Once every couple of months should be sufficient.
When dealing with money online, be sure to use your own computer. This applies to online shopping and online banking too. Public computers are rarely safe, as someone could potentially access your information without you knowing after you've logged off. If this happens, and a hacker gains your credit card details, you could lose money.
If you do find your bank account is compromised as a result of hacking, contact your bank immediately and explain the situation as calmly as possible. Give your bank as much information as you can so they can begin investigating the matter on your behalf.
For more information, you may wish to read the Cable '10 tips to stay safe' online guide.
If you have a question related to academic life and study in the UK and you can't find the answer in the Prepare for Success learning resources, write it on the Question Wall and we will try to answer it here in the blog next time.
Posted By :
Prepare for Success