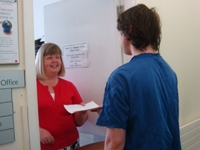 This week's blog post introduces some of the new administrative procedures that you may need to learn when you arrive at your new place of study.
Many international students are now arriving at UK universities and colleges and waiting expectantly for their course to begin. Learning how the administrative system works in your new place of study is an important aspect of settling down and making a good start on your course. These news procedures which you will need to follow for such things as submitting assignments or organising a meeting with your tutor may be very different from what you have done in your previous place of study.
Universities are increasingly adopting an online submission system for students' assignments. This may involve uploading an electronic version of your finished assignment online to an area for your particular course by the submission deadline and not taking a physical copy to your tutor's in-tray. If your institution uses an online submission system like this, you will probably then receive a confirmation email detailing the date and time of your submission. Similarly, your assignment grade and feedback may only be made available to you electronically. Many institutions will require students to confirm online at the time of submitting that they have not plagiarised in their work and institutions automatically use plagiarism detecting software such as Turnitin on all student work.
Because your tutor will be in many places other than their office, if you need to see your tutor it's not a good idea just to go to their office expecting to see them. The normal practice in most UK institutions is either to sign up for a meeting in advance on an appointment list, often pinned up outside their office, or to email and request an appointment.
Universities and their faculties and departments increasingly use social media as a way of informing their students about what is going on. Subject-related events, subject-specific student group meetings and news are often communicated through blogs or Twitter. It can be useful to set up a Twitter account when you arrive in the UK and find and follow them.
If you have a question related to academic life and study in the UK and you can't find the answer in the Prepare for Success learning resources, write it on the Question Wall and we will try to answer it here in the blog next time.
Posted By :
Prepare for Success