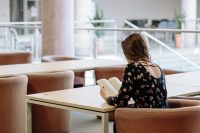 This month's guest blogpost is provided by Amy Hirst, a writer for The Student Housing Company:
University is a very exciting time for most students but it can also be challenging in many ways, especially as an international student. Adapting to a new country and way of life can be tough if you're a long way from home.
The Student Housing Company's recent survey into student mental health found that 96% of students have experienced stress at some point at university, that 56% feel stressed constantly, and that 71% have suffered from some form of mental illness. It is important to overcome stress, so that your life as a student isn't taken over by mental health problems.
Feeling Homesick
Homesickness is completely natural and very common amongst students. If you're feeling homesick, make sure that you develop a strong friendship network at university, so that you feel more at home. There are hundreds of societies and groups you will be able to join during freshers' week. Sign up for your favourite ones – you're bound to make lots of friends this way!
Get chatting to your neighbours in your accommodation complex too. You'll meet lots of friendly people this way, and just remember that everyone else wants to make new friends too. Don't forget your family and friends back home either. Even if you're just skyping or calling them, it will make you feel a lot better about being away from home.
Exams and Revision
Getting used to a new university can be very challenging. To stay on top of your studies and avoid stress, download your lecture timetable as soon as possible. This way, you will be able to plan your studies and your life around your lectures. It is also a good idea to download your exam timetable as soon as you can, so that you will be able to plan ahead, revise for your exams, and fit in plenty of breaks too.
Saving Money
Budgeting and getting your finances in order can be stressful at university, but there are plenty of ways to save money as a student. Here are some top tips:
Cook sensibly. By avoiding takeaways and buying ingredients for healthy recipes, you will feel better for eating healthy food and you will save a lot of money too.
Take advantage of student offers. There are plenty of offers available to students, like discounted student bars, offers on public transport, and money off in certain shops.
Use the library. This might seem obvious, but there are plenty of electronic and physical books available at your university library, so it's unlikely that you will need to buy many books to complete your studies. Just try to reserve them in advance.
Finding the Help You Need
Today, there is less stigma attached to mental health issues in the UK, so do not be ashamed of getting help if you need it. Sometimes, just talking about your problems with a friend will make you feel better. But if you need further support, most universities have staff on hand to assist you – whether that's counsellors or wider support staff. To find out more about The Student Housing Company's latest research into mental health problems, read their mental health infographic.
If you have a question related to academic life and study in the UK and you can't find the answer in the Prepare for Success learning resources, write it on the Question Wall and we will try to answer it here in the blog next time.
Posted By :
Prepare for Success