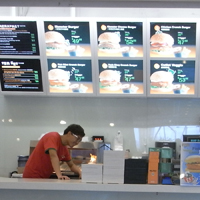 Modified image courtesy of Emasmeso
(Wikimedia Commons).
This month's blog post concerns international students and doing part-time work at the same time as studying. Many students work while studying on their courses in their home countries, and the most common reason for doing this is to gain some extra income to help with the cost of living while studying. As an international student, first of all you will need to confirm that you can work in the UK.
So as an international student thinking about finding a part-time job, the first important question to ask yourself is 'am I allowed to work during my studies and if so, how many hours am I permitted to work?' To find the answer to this question, check your passport or identity card for stamps received on entry to the UK. Short-term visitors to the UK are very unlikely to have permission to work whereas Tier 4 students can generally do some work whilst studying. The UKCISA website offers some detailed information and helps explain this rather complicated area so that you can ensure you are staying legal.
If you are allowed to work whilst studying in the UK, the next question is what kind of work can you do. As a student, it will be important for you to put your studies first and ensure you attend classes and manage your course assignments. These are crucial to passing your course and obtaining your qualification at the end of it. However, there are some kinds of work which will not interfere with your studies but will enable you to earn a little to help with everyday living costs. Some universities and colleges have a Temp Bank where students seeking part-time work can register their interest. Work may be administrative, publicity-related, or in catering or cleaning. These jobs may be associated with the Students' Union or the University more widely.
Alternatively, if you live in a town or city you could look out for part-time jobs advertised in newsagents' windows, in employment agencies, local newspapers, local online recruitment websites or in shop windows and food outlets themselves. If you are asked by a potential employer to attend an interview for a job, you may need to provide an up-to-date CV (Curriculum Vitae) in English which includes your contact details in the UK and the name and address of someone who can act as a referee. He / she may also ask to see evidence of your entitlement to work.
Finally, for further advice about seeking part-time work in the UK, try speaking to staff in the Careers Centre at your college or university. They can also help you with preparing a CV in English if you need one.
If you have a question related to academic life and study in the UK and you can't find the answer in the Prepare for Success learning resources, write it on the Question Wall and we will try to answer it here in the blog next time.
Posted By :
Prepare for Success