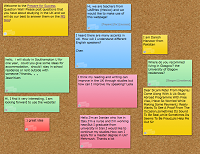 This month's blogpost addresses three questions posted recently by international students on the Prepare for Success Questions Wall:
The first is from Mehmush. Mehmush is an Iranian student, who is currently living and working as a nurse in Italy and who wants to apply for a Masters degree programme in the UK.
The first step in applying for any postgraduate degree programme is to inform yourself about what is available in the area you are interested in. There are some online search portals that can be a useful starting point such as the Masters Portal or Masters Compare. However, you should always follow this step by searching for more detailed information on the university websites of the Masters programmes you are interested in and/or by contacting their Admissions office to request a brochure about the courses you are interested in. Once you are in contact with the university's admissions office you can also ask about costs, possible scholarships and the exact procedure to apply for the course you choose.
The second question is from a student planning to study in Glasgow and who is wondering where the best place to live is – in halls of residence or in the city?
This is a dilemma that many international students have as there are pros and cons for both living in a university hall of residence or sharing a house or flat with others in the local community. Many universities will offer international students a guaranteed place in a hall of residence to save you the trouble of searching for private accommodation. Others will have an accommodation office, which can help in the search for private accommodation. The situation will be different from one city to another but here are some points to help you consider which is best for you.
In a hall of residence:
• You have the opportunity to meet other students, including those studying on different courses.
• You may pay less rent than in private accommodation of a similar size and location.
• Halls of residence are generally situated close to main campuses.
• Utility bills (e.g. for gas, electricity etc) are generally included in your rent.
• Staying in a hall of residence can help you to feel part of the university community.
In private accommodation:
• You have the opportunity to live and share with friends.
• You may feel more independent and more in touch with the local community.
• You will have to pay utility bills (e.g. for gas, electricity etc), which are generally not included in your rent.
• You can choose an area of the city that you would like to live in and look for private accommodation there.
• You won't need to leave your accommodation during vacation time.
• You will be able to search for a more competitive rate for rent.
Lastly, there is a question from Peter from Nigeria. He is concerned about certain kinds of advertising ('Come Along With A UK Study Abroad Programme With Free Visa'). Is it genuine or is it a fraudulent attempt to obtain money? Should he require proof even if it sounds real?
This is a very important question as every year there are numerous scams involving false promises, to extort money from students. You should always be very suspicious of anything that sounds too good to be true as it probably is, and NEVER send money or bank details in such cases. Reliable Information about how to obtain a study visa is available from the UKCISA website or from the student admissions section at the University you are applying to.
If you have a question related to academic life and study in the UK and you can't find the answer in the Prepare for Success learning resources, write it on the Question Wall and we will try to answer it here in the blog next time.
Posted By :
Prepare for Success