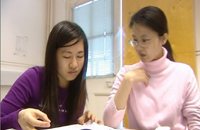 What are the challenges that Chinese students face as international students in the UK? Xiangping Du is an Academic Skills Tutor at the University of Hertfordshire, and in the first of two guest blog posts for Prepare for Success she shares her own experience of dealing with the challenges she faced as a student in the UK. Having studied in both a Chinese and English higher education environment, she understands the academic challenges Chinese students face when they come to study in an English context:
In the past 4 years of study, I have been through many ups and downs. Thanks to a high IELTS score, I did not have to do a pre-sessional preparation course; however, I felt that I was disadvantaged as I missed all the lessons on academic expectations and skills required in an English-speaking environment. Consequently, the first semester was the most challenging, when I had to manage different academic expectations while I was adjusting to a completely different physical environment.
Coming to study in the UK was considered a short-cut after I completed 3 years' diploma in China. The idea was to spend 1 year on a final year of my undergraduate (UG) degree, and 1 year on my postgraduate (PG) degree. That is to say, within 2 years, I would be able to graduate with a Master's degree, which would normally need 5 years if I chose to study in China. As a matter of fact, I ended up with the award of PhD after spending 4 years in the UK (1 year on UG and 3 years on a PhD).
The first day coming to the university was very memorable. I was surprised to see so many international students from so many different countries, with different accents and limited English. The first week was International Orientation Week, particularly organised for international students, and home students only came a week later for Induction Week. Nonetheless, l had fun during that week and I participated in various social activities, met many friends from different parts of the world and built my confidence speaking English with other international students.
After the course started, I was surprised that a textbook wasn't given to us, only a few 'Module Guides' which contained only brief information about the course, the assessments, and a long reading list. There were no course textbooks like in China, and I was expected to read widely from books I found for myself, and also journal articles, news items and other database information as recommended in the reading list. The reading was just killing me at the beginning! I was not used to reading full English texts without any Chinese explanation / translation so it often took me ages to finish reading a recommended chapter or an article. Gradually, I learnt to read for 'gist' – skim and scan for information – instead of reading every single word, and I also kept a good dictionary with me.
Gradually, my improved reading helped with my writing, although the paraphrasing techniques I had to use in writing, as well as referencing, were other difficult things for me initially. When I used to study in China, I didn't need to include any references in writing, or acknowledge sources, because we regarded citing others' work as an honour for them, and we regarded things written by them as available for others to know and to use. However, I learnt that in the English academic world, referencing is a serious matter and if it is not followed properly, students can be accused of 'plagiarism' which is a serious academic misconduct issue and has serious consequences. Therefore, referencing is definitely something I had to quickly learn in the UK.
In her next guest blog post, Xiangping discusses more of the challenges she met whilst studying in the UK, especially in academic assignments and critical thinking. Xiangping has co-written Study Skills for Chinese Students with Michael Courtney, who is also an Academic Skills Tutor at the University of Hertfordshire. They have taught Chinese students in China and the West for many years, and using her own experience both as a student and as a Tutor, Xiangping shares strategies for effective study. Chinese students interested in purchasing the book via the Sage website can receive a 25% discount using this code: UK15SM04 (enter it in the promotions code box during the checkout process). This offer is valid until the 20th March 2015.
If you have a question related to academic life and study in the UK and you can't find the answer in the Prepare for Success learning resources, write it on the Question Wall and we will try to answer it here in the blog next time.
Posted By :
Prepare for Success