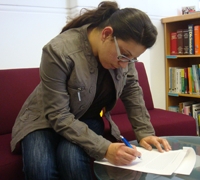 Welcome to the first blog post from Prepare for Success! In the blog we try to answer questions that students and other users of our website ask through the Question Wall or Feedback form. Today's question is from an international student who has asked: "Where can I find more activities to practise academic writing?"
A useful website to help you learn about the complete process of academic writing needed for study in UK universities and colleges, with exercises and self-tests, is Using English for Academic Purposes: A Guide for Students in Higher Education developed by Andy Gillett in the UK.
Another website to help you learn about academic writing in your discipline and including practice activities is Writing for a Purpose on the British Council LearnEnglish website.
If you have a question related to academic life and study in the UK and you can't find the answer in the Prepare for Success learning resources, write it on the Question Wall and we will try to answer it here in the blog next time.
Posted By :
Prepare for Success